Cats are pretty choosy animals. They choose their own humans and never consider themselves owned. And that is certainly the case for a cute little kitten in Australia. She snuck into a pizza shop and immediately decided to make the chef her forever human.
The sweet tabby kitten used her charm to capture the heart of the chef, Dave. She rubbed up against his legs, begging for his attention and love. He eventually had to give in because she was just too cute to resist.
"I was not planning on having a cat adopt me, she was not prepared to go away," Dave shared. "She looked lost, frightened and nervous due to all the strange noises and smells."
Although Dave was not a cat person, he was convinced by the feline and decided to take her home. He lifted her onto his shoulder and she quickly nuzzled in his neck.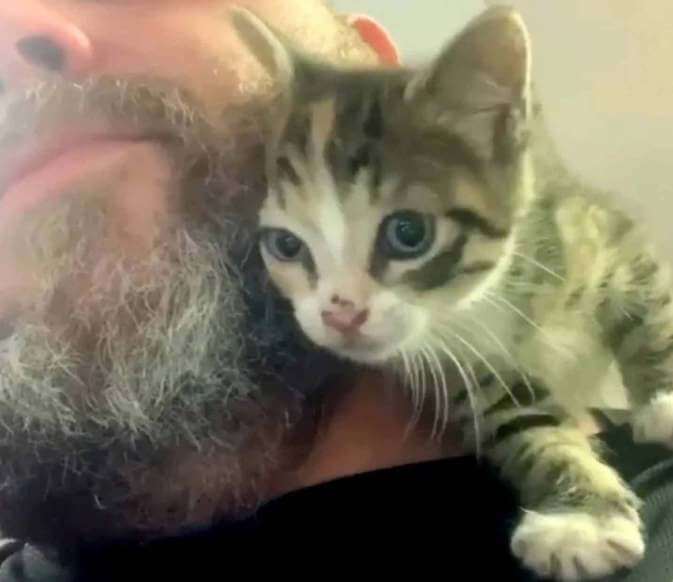 "I popped her up on my shoulder, and she felt at home right away. She started rubbing against my ears and the back of my neck and purring."
Dave asked around the neighborhood but no one knew where the kitten had come from. It was clear that she had no owner and no one had come forward to claim her.
Dave tried to find the cat a forever home but she was not interested in having any other home except for his. Just when he was about to reach out to the internet to look for a home, the kitten curled on his lap and fell asleep. He took it as a sign.
After that sweet moment, Dave accepted this fact and now he has a kitten and becomes a cat dad. He named her Ratbag the Vandal and quickly set up everything to welcome her into his house.
He even took her to the vet, where she was vaccinated and microchipped.
Now, the kitten has become Dave's greatest confidante and most loyal friend.
"She's decided she is staying, and who could argue with that little face?" Dave added. "Now, she's employed full time in our newly created finger chewing and cuteness team."
Watch the kitten in this cute video:
Their friendship immediately resonated with people on the internet, and they can't stop spreading it. They quickly follow Dave's Instagram to update her adventures.
Have you ever been "chosen" by a cat? Let us know in the comments below! If you love this story, please share it with your friends and family members!
Comments
comments