As you know, cats are masters of surprise who never fail to amaze us with their wacky and weird behavior. Although they have a reputation for being disinterested and difficult to read, they always try to find new ways to surprise their owners. And sometimes, these great ways will help them get what they want.
Meet Bacon, an independent calico cat who knows exactly how to ask for what she wants from her owner. However, Bacon doesn't meow like other cats because she has a different way of communicating. She says two words "Uh-oh" whenever she is out of food and wants to be fed.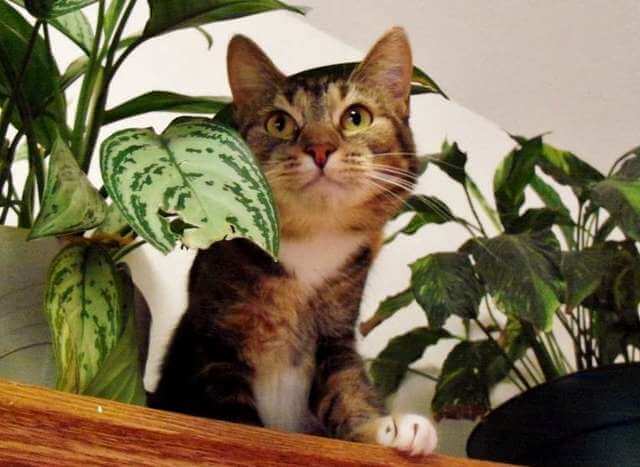 The first time Bacon did it, her mom and dad couldn't believe their ears. After that, they quickly knew that she learned how to mimic her mom's words. Sadly, when they tried to get Bacon to repeat it, she refused to open her mouth. "She is a cat after all," Barbara Jones, Bacon's mom said.
"When we get up in the morning and go to feed her without thinking we would say, 'Uh-oh! your bowl is empty," Jones told The Dodo. "Out of the blue one morning, she said 'Uh-oh' first very clearly!"
Thankfully, the next day, Bacon said her new favorite word again. She said "Uh-oh" when her parents fed her, and has said this word almost every day since.
"Now when we ask her, 'Do you wanna eat?' she responds with a hearty 'Uh-oh,'" Jones said. For Bacon, "Uh-oh" means "Feed me!" When Bacon wants to eat, she uses her words to get food. But when she wants kisses and cuddles, she never has to ask.
You can watch the amazing video here:
Bacon has lived with her family for 11 years. According to Jones, Bacon was a stray cat who ran in her house and decided to stay forever. "I heard a kitty just yelling outside my apartment. I opened the door and she ran in," Jones said. "Bacon picked me."
If you love this video, feel free to share it with your friends and your family members!