A golden retriever named Brody has become an internet sensation after he interrupted the live broadcast of Fox News to get his owner's attention.
The incident happened during the weather forecast of Paul Dellegatto, the chief meteorologist at Fox News 13 Tamba Bay. He was delivering the weather update from his home when his dog Brody decided to interrupt the live broadcast.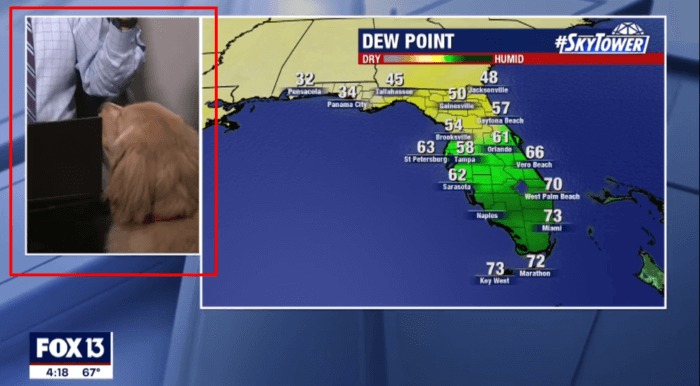 The dog knocked off the computer with his head causing the digital maps and visualisations to vanish. Paul quickly asked Brody to climb on his lap, gave him some cuddles, and continued with the weather forecast. "That wasn't quite smart," he told Brody.
Later, the dog ran across the room after seeing a person standing outside a glass door. Paul apologized for his dog's interruption and said Brody was going crazy because he couldn't see the person holding the blanket.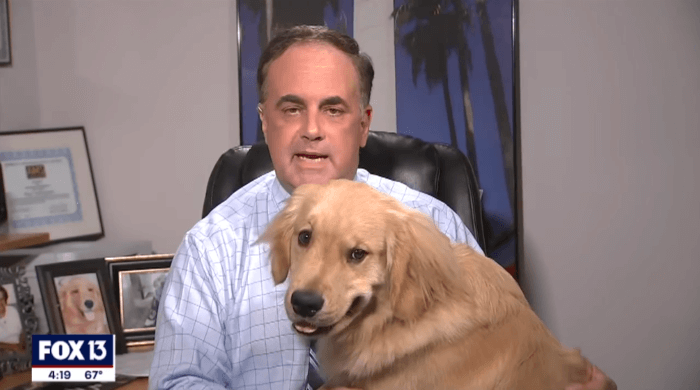 The anchor in the studio didn't mind at all and said, "That's alright Brody! We enjoyed every moment of that. We don't need to see that forecast map, we'll just look at Brody."
People on social media don't have any complaints about Brody's interruption. In fact, they love Brody and want to see him making more appearances in the future!
Watch the cute video here:
One viewer commented said, "Paul this is your new assistant love you and Brody both love it when my news channel shows being normal like all the rest of us love the pets."
One user also said, "We love Brody! We look for him every night now that Paul is working from home. Brody is such a happy dog and he makes us happy during this very stressful time."
Yet another user commented, "Paul it was good to have the dog help you with the weather. We all need a good laugh during this time. The dog put smiles on many faces."
Do you love this video? Let us know your thoughts in comments and don't forget to share this video with your friends to make their day!